It's absolutely wonderful that we can take care of our hygiene the completely natural way with @dirtdonthurtme Natural Activated Coconut Charcoal Tooth Powder!! This tooth powder is a super combo of awesome oral care friendly ingredients of Calcium Bentonite Clay, Coconut Activated Charcoal, Calcium Carbonate, Kaolin Clay, Diatomaceous Earth, Sodium Bicarbonate, Myrrh Gum Powder, Clove, Sage, Turmeric, Essential Oil Blend: ( Peppermint, Spearmint, Wintergreen), that get your teeth and mouth super clean and healthy. The formula whitens teeth, strengthen (re-mineralize) your teeth and detoxifies your mouth. It also polishes and scrubs teeth and freshens breath as well as removes plaque.
I'm totally converted from any chemical filled toothpaste and fully on board with @dirtdonthurtme Natural Activated Coconut Charcoal Tooth Powder!! Its wonderfully effective yet incredibly gentile! My mouth feels incredibly healthy and just great! My teeth are polished, shiny and looking whiter every day! My breath is truly fresh and clean smelling, since the product is actually pulling toxins from my mouth as opposed to simply masking the odor. This stuff works GREAT!!!.
How Activated Charcoal Works: Coconut Activated Charcoal is medicinal and a potent natural treatment. The "activation" process makes it highly porous, allowing it to adsorb (to bind to), odors/toxins from gases or liquids up to 1000 times its weight. The extremely porous surface of just a small amount of activated charcoal holds a strong negative charge, that attracts the positively charged toxins and poisons to help bind to and literally pull them out of your body.
Instagram// Nov 7th, 2017// @OrganicOracle
Charcoal Tooth Powder
Facebook Review by Liz Diaz// Feb 2018
Tooth Powder + Tooth/Gum Oil
Charcoal + Clay Mineral Face Mask
Facebook Review // Samantha Porter // Feb 2018
@dirtdonthurtme is right on when they say "Dirt Don't Hurt!!" In fact this Activated Charcoal Face Mask is incredibly cleansing and clarifying and does anything but hurt!! You mix the mask to your desired consistency, apply with the lovely brush that is included in the set. Let it dry then simply wash away to reveal fresh, clean, exfoliated, beautiful, and skin. I got compliments on my skin just as soon as I started using this product, people asked me what I was doing different making my skin "so radiant". It's wonderful at resolving any break outs and keeping anything under the skin from surfacing, the bumps under my skin just vanished as the surface layers exfoliated away. This is a wonderful deep cleaning clarifying product that I think we could all use especially if you have any skin congestion, dullness, acne, random pimples, or just want to reveal that fresh layer of radiant skin just waiting to skin through from under the old dead surface skin cells.
I love the complete list of ingredients that targets and compliments all types of skin!! Activated Charcoal, Bentonite Clay, French Green Clay, Colloidial Oatmeal, Tea Tree EO + Frankincense essential oil effectively eliminates excess oil, without over-drying your skin! Just wonderful!!#ActivatedCharcoal#CharcoalFaceMask#dirtdonthurtme #mask #facemask #organic
Instagram// Nov 19th, 2017
// @OrganicOracle
So I FINALLY had the chance to try the #DirtDontHurt Charcoal Face Mask!! Here are a few points I wanted to highlight:
•A little goes a long way
•No mess-formula
•The brush provided is great for coverage •Definitely get your money's worth! 💁🏽 When all is said and done. I'd definitely buy this again. But with the amount that you need to mix for each use, you won't have to buy more for a while!! Once I washed my face, it felt so clean and refreshed! I did it at night so I expected to wake up the next morning with an oily face (like all of the other products I've used leave me) but my face was smooth and not oily...but not dry. If that makes sense lol Just go buy one and try it!! It's fun to paint your face and feel like a tribal warrior!! Lol Check them out at @dirtdonthurtme#CharcoalFaceMask #DirtDontHurtMe #SmoothSkin
Instagram// Sept 15th, 2017// @JessieBooski
Hi everyone! Sorry I have been a little MIA. My big brother got married yesterday (and I officiated the wedding)! It was a beautiful day.
However, I wanted to show you all my trick on how I was able to get super white teeth for the wedding in just a few days. 😁
I hate whitening my teeth because it's normally painful, takes a long time and is super expensive. But @dirtdonthurtmecharcoal teeth whitening powder is very effective, inexpensive ($25 a jar that I've had for months and still not even half way through) and doesn't hurt one bit. 😍
I'm truly amazed. All you have to do is wet your toothbrush, stick it in the powder and then brush your teeth as you would normally. Even after one brush you start noticing results. My teeth were smoother, whiter and overall just felt so much cleaner. 💃🏼
I highly recommend picking up one of these on their website. Not all charcoal powders are created equal and this one is completely cruelty free, all natural and vegan. 🐰
Want white teeth, what are you waiting for?
Instagram// Nov 12th, 2017// @Trendi.ness
Charcoal Tooth Powder
Facebook Review by Jen Murczek // Feb 2018
Facebook Review by Rachel Venezia-Craig// May 2017
I recently got this amazing charcoal mask from @dirtdonthurtme and I'm so obsessed with it after just one use!
For starters it's like a mini arts & crafts project because you get to mix the powder with water! In addition to the fun aspect, charcoal has so many amazing qualities for your skin, body and teeth.
This mask literally sucks all the dirt and impurities from your skin and leaves you feeling so fresh and so clean. My skin has never quiet felt so clean and pure. Putting the mask together is super easy. I highly recommend checking this mask out as well as their other products. I love me some @dirtdonthurtme !
Instagram// Aug 28th,2017 // @Trendi.ness
Charcoal Tooth Powder
Facebook Review by Kristin Edwards// May 2018
Tooth Powder + Tooth/Gum Oil
Charcoal Tooth Powder and Tooth + Gum Oil
Ever since using OTC whitening strips (years ago), I have had MAJOR sensitivity issues.  I was sensitive to hot, cold and had to be numbed for a regular dental cleaning.  My dentist told me that for my age, my gums were receding more than normal.  He recommended ACT Mouthwash and Sensodyne which I was using and hoping to have it 'build' more enamel.  He said it wouldn't be much, but was hoping it would help.  I had been using those products for over 2 years and flossing daily.
I purchased the Tooth Powder and Tooth and Gum oil at Hillcrest Farmers Market. I use them 2-3 times a day.  I usually dip my brush in the powder then drop a couple drops of the oil on my brush.  I occasionally (2-3 times a week) make a mouthwash out of the oil with some water.  
I have been using these products since August 2017.  My sensitivity is GONE!  When introduced to your product, I was skeptical of the claim about it helping sensitivity.  It worked though!  I can drink/eat hot and cold drinks/food and not be bothered anymore.  My teeth started feeling more clean immediately.  I also stopped feeling like I had 'morning breath' when waking up.  After brushing with toothpaste, I would sometimes pick in between my teeth with my nail because it didn't get everything out, with Dirt Don't Hurt products, I no longer have to do that. I also love that the products last such a long time!
I go 2x a year for a cleaning.  I had a deep cleaning in October 2017 with a laser treatment.  I went back in January 2018 for a check-up/mini-cleaning and this was the first time I wasn't numbed for treatment. 
I HIGHLY recommend anyone using this product due to my great experience overall (teeth, breath feel cleaner and no more sensitivity issues).
Testimonial by A.Baker// March 2018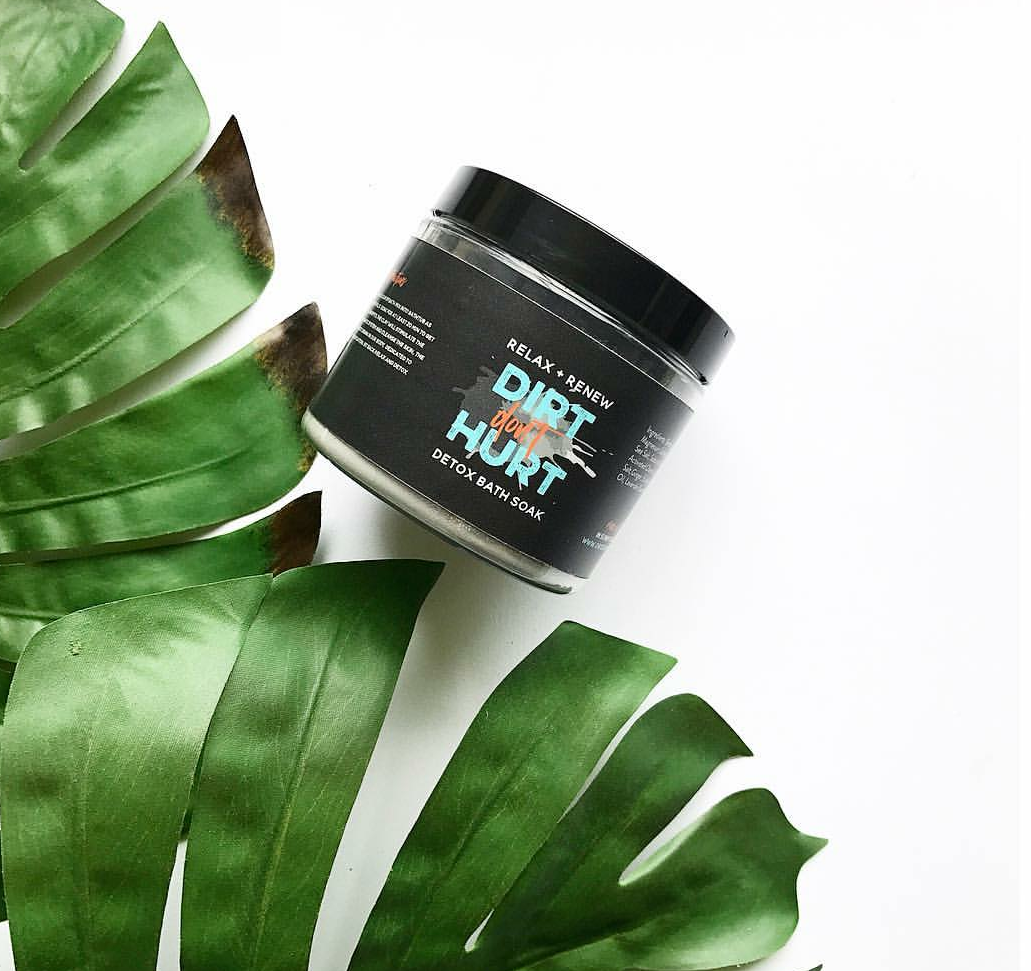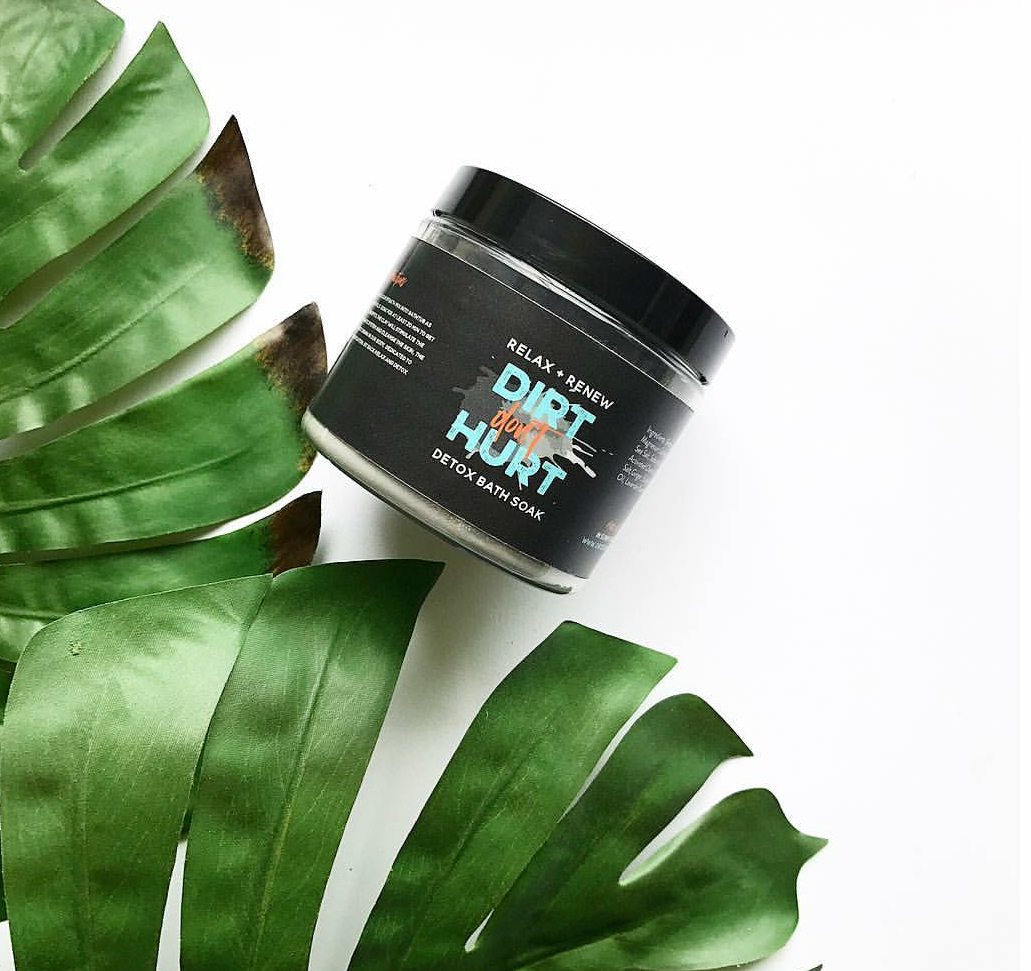 It's time to relax and end your long stressful work week the right way! Luckily I know just the way! 💆🏼
_
With @dirtdonthurtme Detox Bath Soak. It's absolutely amazing and leaves you feeling very relaxed. I used it last night and honestly had one of the best sleeps ever! You have to try it! 🛁🌿
-
It contains Bentonite Clay, Mineral Dead Sea Salt, Activated Charcoal, Himalayan Salt, Ginger, Eucalyptus Essential Oil and Lavender Essential Oil. It smells amazing. (Seriously wish smell cam existed 😏)
-
All you have to do is add half a cup of the bath mix into your bathtub as the water is running and soak for 20 minutes to get the full benefits (I did it for less a few times and still felt amazing but 20 minutes is recommended)..
-
The Clay stimulates the Lymphatic system and cleanses the skin. It's a little pricey at $40 but totally worth it. I have never had a bath product that worked quite so well to relax me. The only downfall is you do need to rinse and wipe down your tub after..
-
Support your local businesses and check out dirtdonthurtme.com for more information. But in the meantime sit back relax and enjoy yourself a nice relaxing Friday night. 🌿✨🌻🌸💆🏼
#relax #bath #detox #dirtdonthurtme #allnatural #natural#friday #friyay #beauty #beautyful #bblogger #beautyblog#beautyblogger #muafollowtrain #instagood #instadaily#peace #peaceful #relaxation #igdaily #iggood #igbeauty#instabeauty #igers #picoftheday #love #lifestyle #lifestyle#lifestyleblogger #lbloggers
Instagram// Sept 22nd, 2017 @Trendi.Ness