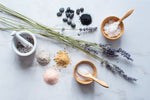 Did you know that FDA doesn't approve the chemicals and fragrances found in beauty products? This can make it extremely difficult for consumers to decide which synthetic ingredients are safe for their skin. 
Your skin is your body's largest organ, which means that many of the products you apply topically are also absorbed into your bloodstream. Choosing natural products with easily recognizable ingredients can help you achieve a healthy, beautiful complexion, while also improving your body's overall health. In this week's blog post, we'll share how you can choose the best natural beauty products. 
Reasons to Use Natural Beauty Products
In addition to being better for the planet, natural beauty products can be better for your overall health and wellness. Here are a few reasons to make the switch: 
No FDA Regulation

- Chemicals and fragrances in skin care products are not regulated by the FDA. Many ingredients are not tested for safety and labels can be intentionally misleading. 

Your body absorbs harmful chemicals -

The ingredients you apply to your skin are quickly absorbed by your bloodstream and this can harm your overall health. 

Protect Your Endocrine System

- The

endocrine system

is responsible for your hormones and it's easily affected by toxins. Changes to your hormones can cause irregular periods, breakouts, birth defects, cancer, and other illnesses. 

Simple ingredients are best -

Can you pronounce the ingredients in your skin care products? It's easy to make healthy decisions when you recognize ingredients like oatmeal and tea tree oil. 
Look for These Natural Ingredients
Here are a few examples of ingredients that will not only help you avoid harming your skin, but also help you treat breakouts, soothe skin, and prevent sun damage. 
Beta Carotene - Many fruits and vegetables, like carrots, have skin supporting beta carotene. The body converts this into vitamin A in order to protect against sun damage and promote healthy cell turnover. When used topically, it can improve skin discoloration. 
Oats - Oatmeal is one of the few ingredients approved by the FDA to treat skin irritations. It not only improves the skin barrier, but it also has anti-inflammatory and antioxidant properties. 
Vitamin C - This nutrient is great for slowing down the effects of aging. Vitamin C can make skin smoother and improve firmness. Plus, it can fight free-radical damage and lighten dark 
Witch Hazel - Witch hazel can be used in toners and moisturizers to control oil, while hydrating skin. Just be careful that the witch hazel you purchase doesn't contain alcohol. 
Avoid These Ingredients
If you haven't yet made the switch to all-natural beauty products, it's important to be conscious of what's in your synthetic products. Make sure to avoid these ingredients: 
Parabens - Manufacturers often use this ingredient in water-based products to stop bacteria growth. However, parabens can cause hormonal imbalances and even breast cancer.

Sodium Lauryl Sulfate - Be especially careful when you buy a product that foams because it will likely contain sodium lauryl sulfate. This ingredient is a carcinogen. 

Formaldehyde - You may already recognize this one as a carcinogen, but you may not know all of its names. On a product label, formaldehyde may show up as quaternium-15, DMDM hydantoin, or imidazolidinyl urea.

Oxybenzone - Often found in sunscreen and moisturizer, this chemical can cause a thyroid imbalance. (It's also really harmful to coral reef areas.)
Ingredients in Dirt Don't Hurt Products
The earth + plant based Ingredients in Dirt Don't Hurt skin care products are intended to cleanse and clarify your skin without harmful toxins. Our Charcoal + Clay Mineral Face Mask uses French Green clay, for rejuvenation and pore tightening, activated charcoal to remove impurities, and colloidal oatmeal to cleanse, moisturize and soothe skin.   
Activated Charcoal, Bentonite Clay, Colloidal Oatmeal and French Green Clay (Pictured above) 
Additionally, we use frankincense essential oil as a natural astringent and to fight premature aging. This oil is great for protecting and regenerating healthy skin cells. Tea tree oil is added to the mask to treat acne and reduce inflammation in the skin. It's antimicrobial properties calm redness and swelling for smooth, clear skin.  
Learn more about our natural, plant and earth-based ingredients here: https://dirtdonthurtme.com/pages/a-look-at-our-ingredients
Charcoal + Clay Mineral Face Mask (Left) Hydrate + Glow Rose Face Oil (Right)
If you're interested in making the switch to natural skin care products, visit our store today. Shop here.