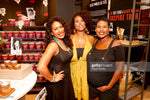 Dirt Don't Hurt Tribe! It's been way too long, we wanted to keep you up to date on all the great things that we have been doing.Last month we had the pleasure to team up with the Buy from a Black Woman organization and do an in-store pop up presented by H & M for the Buy From a Black Woman Inspire Tour... And what an experience it was. The overwhelming support and love from the community was beyond our wildest dreams. Thanks to all of our LA peeps for showing up and showing out. The tour highlighted black woman owned businesses all over the country...from Atlanta, to D.C. , New York, Chicago & the last stop in Los Angeles. "The Buy From a Black Woman Inspire Tour is a multi-city tour across the U.S. highlighting Black Woman Business Owners who are finding, owning, and living out their ambitions. The Inspire Tour is for those who are searching for options in a world that limits their voices. It showcases the victories inside of their communities. It opens a door for those who dare to want more." 
#BLACKWOMANINSPIRETOUR #BUYFROMABLACKWOMAN
Check out our feature in Ebony Magazine: 
August is Black Business Month so we wanted to take a minute to share our favorite Black women owned businesses from the tour!
For Flawless non- Toxic nail polish @taupecoat 
https://taupecoat.com/
For moisturizing those intimate areas - @conditionher 
https://conditionher.com
For delicious Spices & Teas @lostvegasforeverllc
https://www.lostvegastea.com
For the ultimate sweet treat- @luvspunfloss
https://luv-spun.com
We had such amazing success at the Tour, all of our products sold out in a matter of hours! The first to sell out was our Activated Charcoal Face Mask. You want flawless, buttery smooth, clean and fresh skin? Then you must try our Activated Charcoal Face Mask +  Black applicator brush. Get yours today while supplies last. #facemask